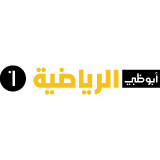 Abu Dhabi Sports 1
Abu Dhabi Sports 1 live streaming, TV Schedule and links
Abu Dhabi Sports 1 Live Streaming Schedule
About Abu Dhabi Sports 1
Abu Dhabi Sports, an Abu Dhabi Media channel , is one of the most watched sport channels in the Arab world due to its wide range of programs covering many world-class championships and competitions streamed on its four-channel network and digital platforms. It also employs many prominent Arab sport media figures.
The channel is characterized by its innovative and high-quality coverage of a number of international sport competitions and events, following the highest media standards. It also provides live streaming of its various programs on its website and ADSPORTS application which is available on both Apple Store and Google Play, official social media pages, IPTV service and its first application for Apple TV.
The channel plays a pivotal role in promoting local sport events and championships, including the Arab Gulf League and UAE President's Cup, in addition to many other important local and international championships.
Abu Dhabi Sports 1 App
Abu Dhabi Sports 1 social links